Designing a Flat Metal Canopy for Your Ohio Property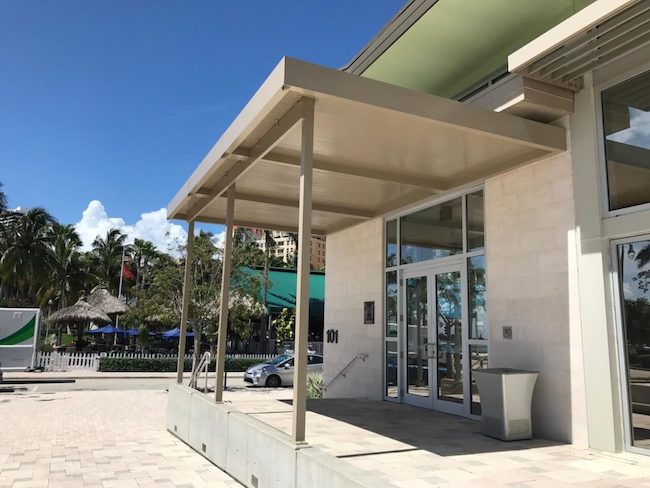 Ohio business owners demand custom solutions that meet their specific needs, especially when it comes to creating additions to their architecture. Flat metal canopies can offer all kinds of perks, but only when they're built and designed well. Working with an experienced flat metal canopy manufacturer gives Ohioans the flexibility and dependability they need to craft truly excellent additions to their commercial properties. Here are some points for Ohio business owners to consider when designing a flat metal canopy for their facility.
What Do You Need from Your Flat Metal Canopy?
Functionality is the most important consideration for business owners and property managers who are looking to improve their properties. Ask yourself what the primary purpose of your new shade structure will be. You may wish to provide shade to an overly sunny seating area, or perhaps protection from rain is your most pressing need. Some businesses simply require a decorative touch or a personalized awning to get their brand out there. Thinking about what purpose your flat metal canopy will serve is a crucial first step in creating the perfect shade structure.
Choose from Datum's Customizable Designs
Once you've explored and determined your needs, select a type of canopy that meets them. Datum offers three different types of shade structures, complete with a massive array of customization options. Our Aegis canopy is a classic flat metal canopy, while our Plexus is cantilevered to offer a gentle slope. Our shade trellis provides an elegant framework of coated aluminum, often paired with flowing shade fabrics.
Add Your Own Flair to Your Flat Metal Canopy
Whether you've chosen a classic flat metal canopy or you've decided to explore our Plexus and shade trellis options, you have the opportunity to completely customize your new structure. Determine the precise measurements that will work best with your existing architecture, select your favorite body and fascia options, and explore our wide range of colors and finishes. No matter what you need from your flat metal canopy, the expert designers and manufacturers at Datum are here to help!
INVEST IN A QUALITY SHADE STRUCTURE FOR YOUR BUSINESS TODAY
Datum Wholesale Shade Structures are fully welded for superior construction and shipped fully assembled for fast and simple installation. At Datum, we save time and cost on projects of all types and sizes. We serve businesses nationwide, including clients in Florida, Georgia, North Carolina, South Carolina, Ohio, Pennsylvania, Maryland, Wisconsin, Illinois, Alabama, Tennessee, Kentucky, Louisiana, Virginia, and more. At Datum, you're in business immediately with the No. 1 manufacturer and wholesale supplier of commercial shade structures in the USA. Please give us a call at 954-541-9745. You can also follow Datum on Facebook, LinkedIn, Pinterest, Houzz, YouTube, Instagram, and Twitter!
Share post: