Deciding on the Kind of Restaurant Awning You Want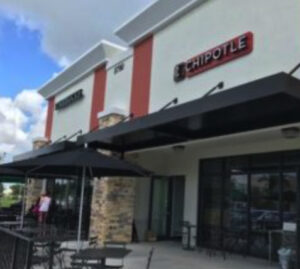 Restaurants have a lot to gain by installing a new awning. Awnings offer restaurants the ability to seat more guests while making their outdoor landscapes more comfortable and inviting overall. You may be wondering, though: what kind of awning should you get? Today, we're going to help you figure out what kind of restaurant awning you should get.
Fixed Vs. Retractable
Both of these options are viable for your restaurant awning, but which of these options is preferable? We'll go over fixed awnings first. Fixed awnings are installed directly onto the building, making them more permanent. Because of this permanency, you won't have to move it around all of the time, but that means you need to be sure it's in the proper place when it's installed.
Retractable awnings, on the other hand, are more temporary. We recommend this option if your business only uses its outdoor landscape during limited times of the year.
What Materials are Used for Your Restaurant Awning?
Awnings can be constructed from a long list of materials. The material you pick will influence not just how your awning looks, but also how durable it is, which can impact its lifespan. Here are some of the materials you can use to create your new awning:
Solution-dyed acrylic fabrics
Vinyl Fabrics
Ideally, the restaurant awning you get has resistance against factors such as mold, water, and UV rays. Being resistant to these factors can greatly help your awning's longevity.
Should Your Restaurant Awning Be Motorized?
Something else you can do with your restaurant awning is have it be operated via motor. Typically, with awnings, you will need to retract them manually, which can take a good amount of time. Motorized awnings can be convenient for this reason because they can save you time each day by making the awning retracting process quicker and easier.
INVEST IN A QUALITY SHADE STRUCTURE FOR YOUR BUSINESS TODAY
Datum Wholesale Shade Structures are fully welded for superior construction and shipped fully assembled for fast and simple installation. At Datum, we save time and cost on projects of all types and sizes. We serve businesses nationwide, including clients in Florida, Georgia, North Carolina, South Carolina, Ohio, Pennsylvania, Maryland, Wisconsin, Illinois, Alabama, Tennessee, Kentucky, Louisiana, Virginia, and more. At Datum, you're in business immediately with the No. 1 manufacturer and wholesale supplier of commercial shade structures in the USA. Please give us a call at 954-541-9745. You can also follow Datum on Facebook, LinkedIn, Pinterest, Houzz, YouTube, Instagram, and Twitter!
Share post: