Keep Your Business Cool Inside and Out with a Custom Shade Structure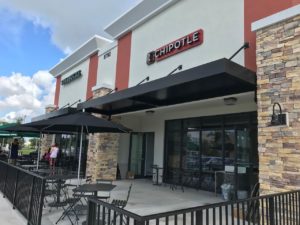 Summer is nearly here, and cities all over are experiencing warmer temperatures. Most people think of custom shade structures as a way to keep their patios and storefronts cool and shaded, but did you know that an awning can keep the inside of your business cool as well? And while we are on the topic of keeping cool, custom shade structures can make your building look hip, professional, and on-brand. Keep reading to learn about all of the ways in which a custom shade structure can make your commercial business look and feel cool.
Custom shade structures are often installed for a singular purpose: keeping outside areas shaded and cool. Datum's custom shade structures are designed to do a great job of it, too. Whether you choose a Plexus, Aegis, or Shade Trellis product, Datum's shade structures are made of high-quality aluminum, shade fabrics, and powder coatings for maximum durability and coverage. Each shade structure comes fully fabricated and assembled, made of strong aluminum parts that are either bolted or welded. After fabrication, the frame is coated with AAMA 2604-compliant polyester powder in the color of your choice.
You might not know it, but custom shade structures can do a great job of keeping the inside of your business cooler as well. When sunlight enters storefront windows, it can make your entire store warmer. When light is blocked by an awning or canopy, this heat is kept out. As a result, your cooling bills can decrease with the installation of a custom shade structure. With different designs and coverage options available, your business's outside areas and storefront can be kept as bright or as shadowed as you would like. Additionally, the inside of your business can become less crowded and warm after shade structure installation due to more cool outside areas for customers to congregate.
A custom shade structure has its practical purposes, but it can also make your business stand out. Your shade structure can be customized to match the rest of your storefront, and you can pull colors from your logo when choosing your powder coat and fabric options in order to give your storefront a cohesive, branded look. Datum uses high-quality shade fabrics which can give your structure a light and breezy look while still providing shade and excellent UV protection.
INVEST IN A QUALITY SHADE STRUCTURE FOR YOUR BUSINESS TODAY
Datum Wholesale Shade Structures are fully welded for superior construction and shipped pre-assembled for fast and simple installation. At Datum, we save time and cost on projects of all types and sizes. At Datum, you're in business immediately with the No. 1 manufacturer and wholesale supplier of commercial shade structures in the country. Please give us a call at 954-541-9745. You can also follow Datum on Facebook, LinkedIn, Pinterest, Houzz, YouTube, Instagram, and Twitter!
Share post: